One Year at Inria Startup Studio - Retrospective
Hello! We completed our year at Inria Startup Studio about ten days ago. This departure signifies a lot for our project: we are no longer funded and supported by Inria, we are about to create our company in the coming months, and it's time for us to stand on our own feet.
A year ago, we knew nothing about starting a business, but we knew we wanted to develop video games that help people, whether for fun, social interaction, combating anxiety and phobias, or simply improving daily life despite individual differences. This year has been a rich learning experience for us. Instead of narrating our week, as we do every Friday, I decided to provide a retrospective of our journey at Inria Startup Studio.
November 2022: Joining ISS
On November 1st, we officially joined Inria Startup Studio. This marked the beginning of dedicating ourselves full-time to the project, a welcome change from evenings and weekends. It was an opportunity for us to familiarize ourselves with the program and start a blog with more regular posts, including our "weekly review."
December 2022: Becoming Doctors, Game Progress
On November 18, Nicolas obtained his Ph.D. in computer science, followed by Jimmy on December 1. With our studies behind us, we could now fully focus on the project. At this stage, our efforts were primarily directed towards game development, with Nicolas working on data synchronization and Jimmy finalizing weather integration.
January 2023: TV Appearance and Office Return
January brought some exciting developments. Nicolas was invited to participate in the "Le Saviez Vous" program on France 3, prompting us to update our website and reconsider our project communication strategy. The TV appearance went well, and it marked the beginning of presenting the project in the media.
At the end of January, we returned to our offices at Agora, following renovations by Loria and Inria. We now had motorized sit-stand desks, new chairs, and storage, significantly improving our working comfort.
February 2023: First Exhibition at Féru des Sciences
In February, Inria's communication team connected us with Féru des Sciences, organizing a gaming expo. We showcased our games, VirtualSociety and Running Guys, and engaged in scientific outreach about video game development. It was gratifying to see children enjoying our games, providing valuable feedback and expressing interest in game development.
March 2023: Joining Incubator Lorrain and GDC Participation
In March, we explored Incubateur Lorrain with the intention of applying for their program. Our initial meeting with Natacha and Marie went well, leading us to quickly join Incubateur Lorrain and Peel. Anne-Flore and Hadi provided consistent support, and the incubator's assistance proved invaluable over the months.
In the same month, thanks to Inria, we attended the Game Developers Conference (GDC) 2023 online.
April 2023: F101 at EM Lyon, Joining EastGames
April was a busy month. We attended a business training, F101, at EM Lyon, funded by Inria. This training was incredibly useful for us, providing insights into various aspects of entrepreneurship and helping us define our project better.
We also joined EastGames, an association of game studios and developers in the Grand Est region. During this time, we continued progressing on the game, including implementing curved walls. Aurélie joined the ISS team in Nancy, becoming our CPPI.
May 2023: Game Progress, SpringCamp, and Indie Game Night
In May, significant progress was made on the game, including the implementation of smart object snapping and color editing. We also connected with psychologists through their children, who played our games at Féru des Sciences. They expressed interest in collaborating with us in the future.
In addition, we participated in Indie Game Night in Strasbourg, invited by EastGames, where we shared our story and received valuable feedback. We also attended the SpringCamp in Lyon for three days.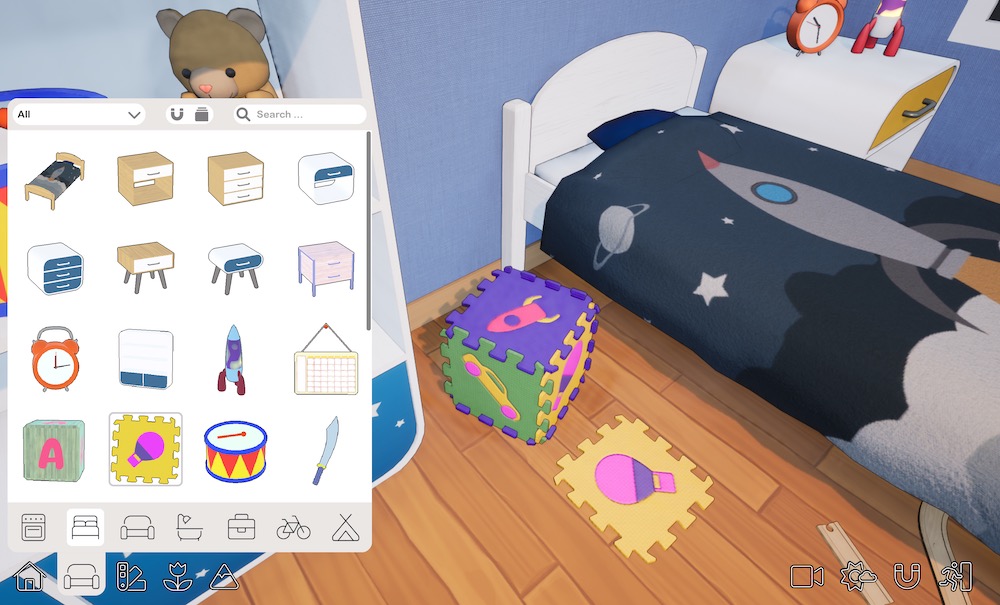 June 2023: Participation in Nancy Expo Fair
In June, we participated twice in the Nancy Expo Fair, first at the France Bleu booth (arranged by Inria's communication team) and the second time with the support of the city of Vandoeuvre and Pandoor Concept. Our setup included more computers, supports, screens, and people, enhancing our presentation.
At the end of the month, we also attended GameCamp in Lille, providing an excellent opportunity to meet French game studios, attend conferences on game development, and engage with the French gaming ecosystem.
July 2023: Studio Naming and Team Expansion
July brought significant changes. We finalized the name of the studio: Cats & Foxes! We distributed the ordered goodies, allowing us to take a group photo with many individuals who regularly assist us at Inria.
But the changes didn't stop there! The team expanded from 3 to 6 members: Mélissa joined as a new 3D artist, thanks to Incubateur Lorrain; Paul joined as an Inria contractor, working on game characters; and Chloé offered her assistance in her free time, focusing on 2D graphics.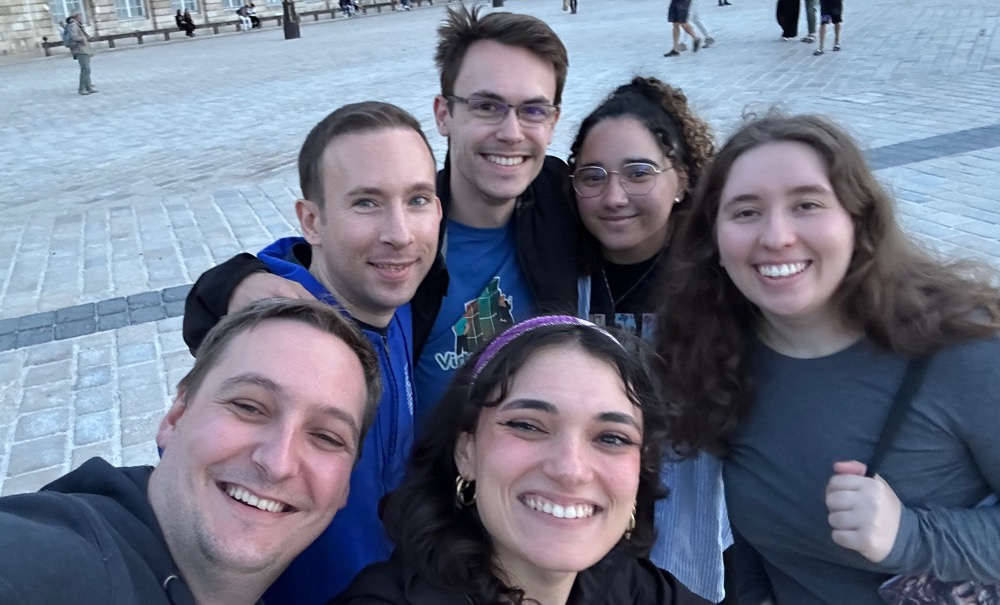 August 2023: Finally, an Artistic Direction
In August, we finally had an initial artistic direction thanks to Mélissa! She proposed a "hand-painted" style that captivated us all. The transition from three to six team members significantly changed our daily routine—team meetings became longer but more interesting.
September 2023: Vandoeuvre in Games, Regional Support
In September, we showcased the game at Vandoeuvre-in-Games, thanks to an invitation from Pandoor Concept. This event, focused specifically on video games, allowed us to incorporate feedback from previous expos for a better presentation. For the first time, we offered a multiplayer version of the game, which was well-received.
During this period, Chloé redefined the game's 2D style and proposed a new logo. Additionally, the Grand Est region granted us a Start-Up grant, significantly increasing the company's initial capital.
October 2023: Focus on Peel and Euratech Lille
In October, we presented the project, supported by Incubateur Lorrain, at Cap sur le Peel. We received the Pépite Award, providing visibility and financial support for studio creation.
We returned to Lille for a week, attending another F101 training, this time with Euratechnologies. It was an excellent opportunity to refine our pitches and gain perspective on our project.
We loved our year at Inria Startup Studio. We learned a lot, met many people who helped us with our challenges (a big thank you to Anne-Flore, Aurélie, Hadi, Natacha, Hervé, and everyone else!).