Vandoeuvre in game: a retrospective
Hi folks!
This weekend, we hosted a booth at the Vandoeuvre in Game fair, featuring a program that included multiplayer testing of VirtualSociety, a behind-the-scenes presentation of the studio with a 3D modeling live demo, and our other game, Running Guys!
First and foremost, we want to express our warmest gratitude to the city of Vandoeuvre, Pandoor Concept, and Guillaume Weislinger for inviting us and welcoming us so graciously. We had a fantastic weekend; the organization was perfect, and we'll gladly return! Thanks also to Marc, Jacques, and Alexis, who came to lend a helping hand in running the booth.
For the first time, we were able to let you all test VirtualSociety in multiplayer mode, with four computers connected to the same world. We were delighted to see how it inspired many of you. Some, for example, created mazes and acrobatic courses to trap other players and force them to find an exit, while others preferred to create giant soccer balls, oversized bowling pins, or even cardboard huts.
Many of you provided us with excellent feedback and comments, and it was a real pleasure to see you having fun with the games we put so much time into developing.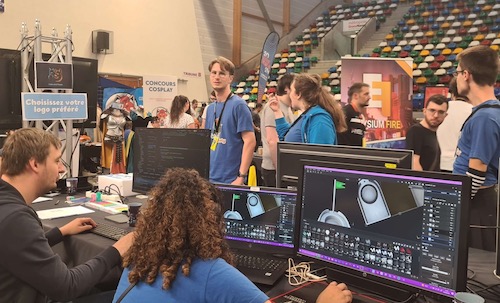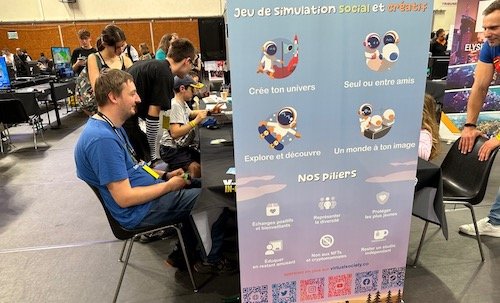 At one end of our booth, two controllers and a TV allowed you to test Running Guys, which is already available in early access on Steam.
As you took the controllers in hand and faced off against each other or collaborated in exhilarating races, the atmosphere was electric. Laughter filled the air as players raced, dodged obstacles, and tried to outmaneuver their opponents. It was heartwarming to witness the pure joy and excitement that the game brought to so many faces.
Of course, in the heat of competition, there were also moments of good-natured frustration when victory seemed just out of reach. These occasional hiccups in the gameplay only added to the overall enjoyment, showcasing the passion and enthusiasm you had for the gaming experience.
It was a truly unforgettable sight to see the range of emotions, from the triumph of victory to the determination to improve, all playing out on the faces of those who joined us at our booth. We couldn't have been happier to share this exciting adventure with you all.
Some of you also came to chat with us about game development, starting an independent studio, and so on, and we were there to mediate and exchange thoughts with you on these topics.
Thanks again to Guillaume, Pandoor Concept, and the city of Vandoeuvre, and we can't wait to see you at the next fair!