Our arrival at the ISS #2 Life at Inria
After our article about joining the Inria Startup Studio, we're continuing the series on our workplace by talking about the people around us at Inria! And with all that, here are some group photos featuring everyone wearing a VirtualSociety t-shirt at Inria!
We may be a large group in this photo, but our project team still consists of only three members: Jimmy and Nicolas full-time, and Clélie, who works on game design in her spare time. Some time ago, we ordered t-shirts and got a few extra ones to give to our colleagues who have helped us throughout the project. In this article, we'll talk about them.
The Inria Communications Team
Right next to our offices are the offices of the Inria Communications Team. In the photo, you can see Justine, Anne-Lise, Véronique, and Virginie from the communications team. They have been incredibly helpful in various areas, whether it's getting the word out about our project, connecting us with different opportunities (like the Foire Expo de Nancy, the gaming event at the science enthusiast fair, or the article about VirtualSociety on the Inria website), or providing advice on our communication materials and publications. We were thrilled to be able to give them VirtualSociety t-shirts!
There's Justine, always energetic and smiling, supporting us daily (including on Twitter!). Véronique, who has offered us numerous opportunities and has an eagle eye for finding typos in texts. And finally, Virginie, who always brightens our day (and we especially enjoy hearing her grumble, I swear, when we spend hours trying to find the cause of a bug, a smile goes a long way). We're really happy to share our workspace with them and interact with them daily. And when we don't see them enough, we organize some activities outside of work (by the way, Justine once wanted to sacrifice herself to save the team in the last escape game we played), and Jimmy and Justine are planning a karaoke soon.
ISS and STIP Teams
Our supervision at the Inria Startup Studio is managed locally by a CPPI (if you want to know more about what a CPPI is, there's a great explanatory video here!). In Nancy, Aurélie has been in this role for a few months, and she has been immensely helpful in guiding us through all our processes and advising us on various aspects of starting a business. With her previous experience at Peel (Pépite de Lorraine), she is well-versed in supporting startups. At Inria, many processes can become complicated and require the approval of numerous people, but Aurélie is super efficient, and our processes have been going smoothly since she joined. We'll talk more about this in the coming weeks, but the team is about to expand, and it's largely thanks to her that it's possible!
Also featured in the photo is Sabrina, the assistant of the STIP team at Inria (to which we are attached), the Lucky Luke of problem-solving; she resolves issues faster than her shadow. She also manages a wide range of administrative and logistical tasks (our travels, contracts, expense reports, some purchases, etc.). In recent months, we've been busy with missions, purchases, and events, which means Sabrina has had a lot on her plate. In summary, a big thank you to Aurélie and Sabrina for everything they have enabled us to achieve.
The Cafeteria Team
It has been a couple of years since we joined Inria, starting as interns, then engineers, PhD candidates, and now engineers with Inria Startup Studio. Over the years, we have built many relationships, including with the cafeteria and restaurant team, who bring so much positivity to the lab. For our group photo, we also invited Caroline (#MonLapin), Isabelle, Floriane, and Tarek, who make sure we have a delicious lunch every day! Caro is like the mascot of the café area; she knows everyone and their preferred lab drinks (and there are many of us!) by name, although she calls us all "mon lapin" (my rabbit). She had been asking for a VirtualSociety t-shirt for years, and now she finally has one! And on the restaurant side, Floriane and Tarek assist Jimmy every day in choosing the main course (yes, decisions aren't his strong suit), and Isabelle (who prepares amazing desserts) manages the cash register with a melodious voice.
Engineers and PhD Candidates from the lab
We spent many years in the Larsen team (Nicolas) and MFX team (Jimmy), and we formed strong bonds there as well. Even today, we (almost) play board games during lunchtime with other PhD candidates and engineers from our former teams. Among them, Jacques and Alexis helped us at our booth during the Foire Expo de Nancy, and they'll likely be present at Vandoeuvre in Game in September to showcase the project! We've been playing games together at lunch for over five years now, and it's a moment we truly adore! We also want to warmly thank Yassine, Jacques, and Alexis for their assistance. At the expo, they did an exceptional job explaining our games to the public, with great energy and enthusiasm.
Paul, joining the team soon
Lastly, Paul, who previously lent a helping hand during the VS Online era by creating character and object animations, will be joining us at the end of July to work on the game's characters. A few years ago, Jimmy was his teacher. Today, Paul possesses various skills in development, graphic design, and animation, and we are thrilled to have the opportunity to work with him!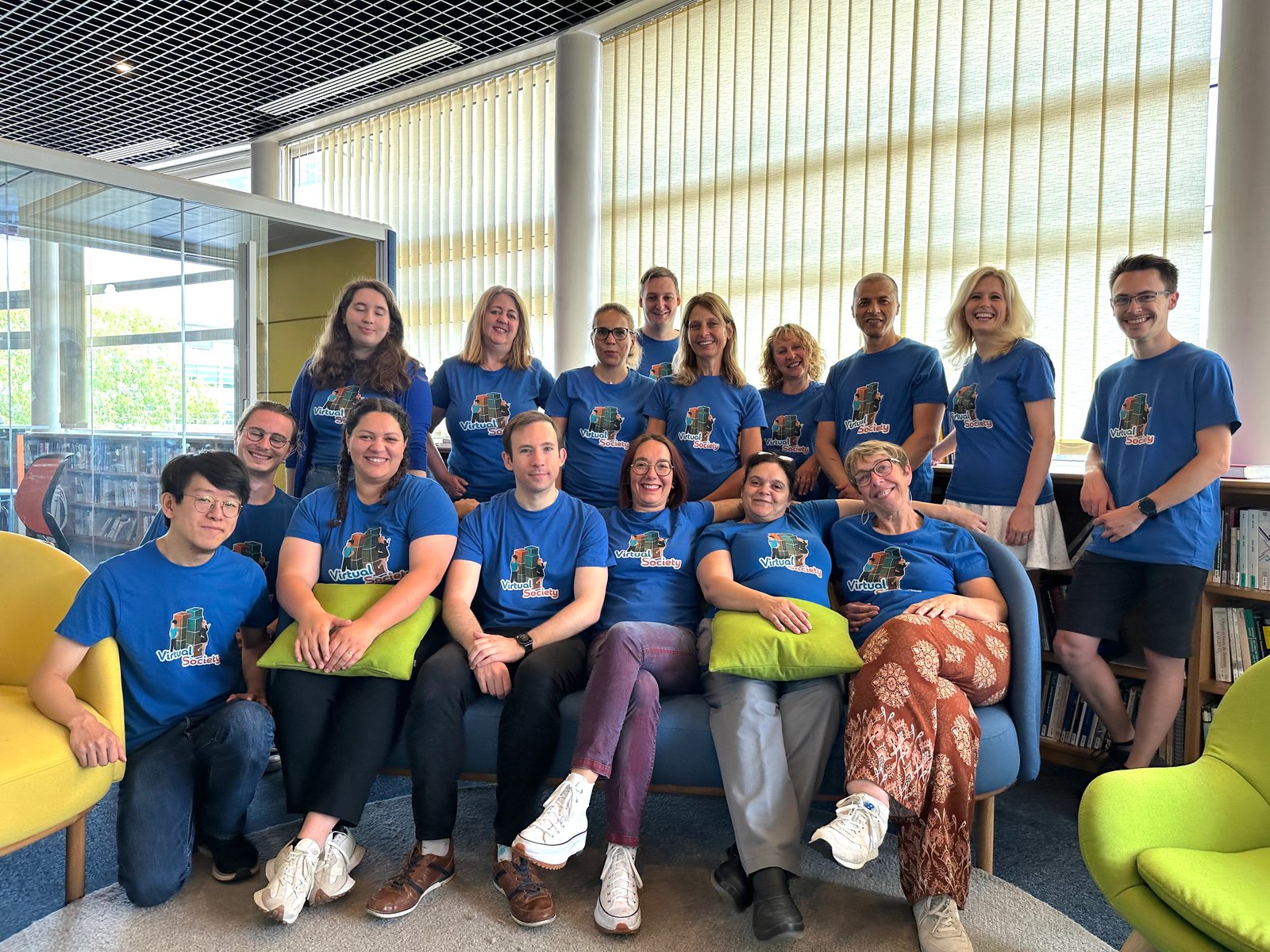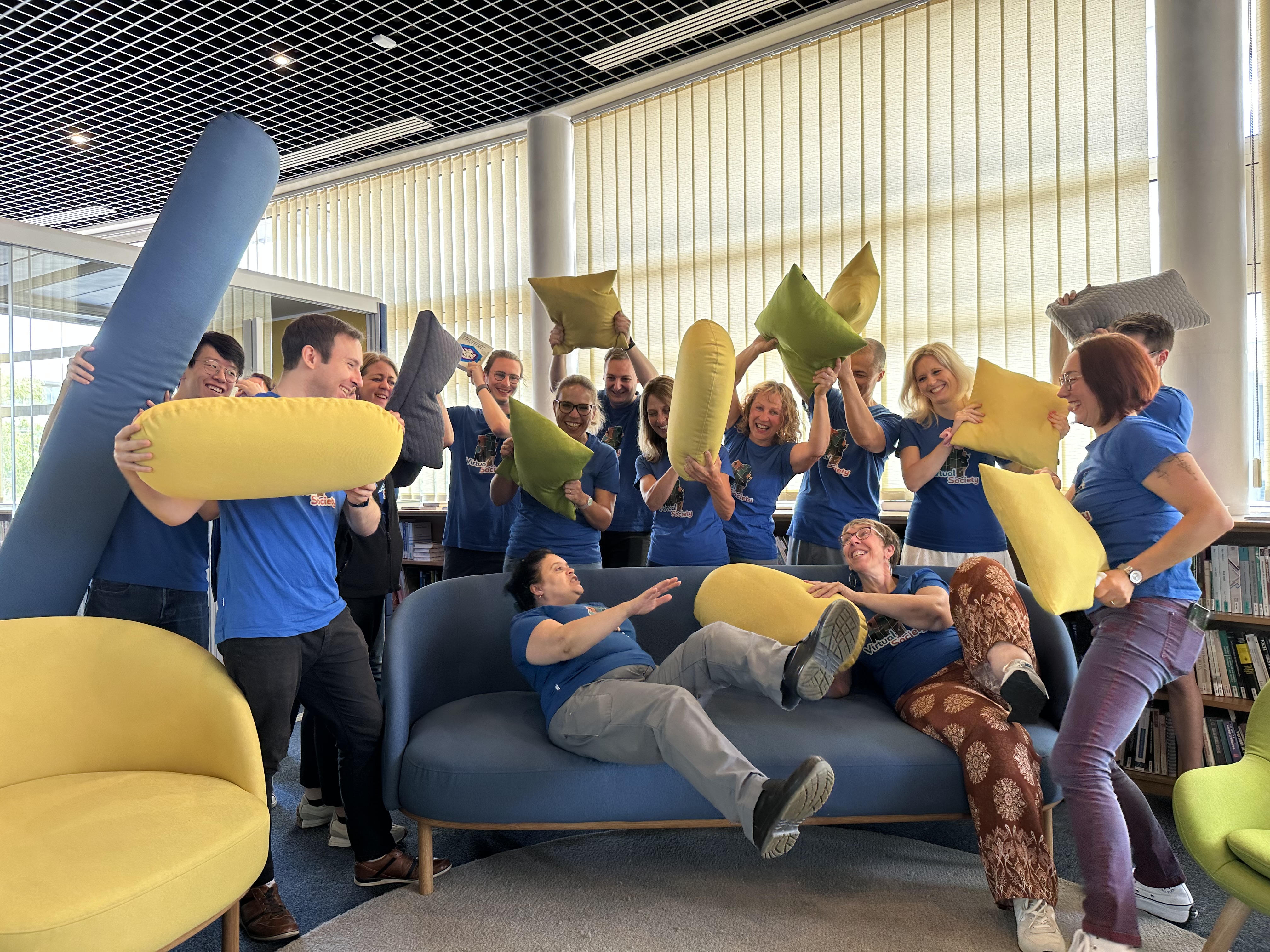 It was a special moment for us to gather all these individuals from the lab who have supported and helped us throughout the years. We are incredibly grateful for the joy they have brought us and their unwavering support. And a big thank you to Jérémy, who shares the open space with us, for taking the photos. Now you have a better understanding of our work environment and the people surrounding us at the lab!
Thank you for your support, and see you soon!